The rules of this award are:-
1. Copy Badge "2008 Cute's Blogger Award" untuk diletakkan di blog anda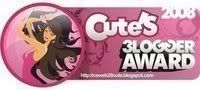 2. Link atau ceritakan kembali siapa yg memberikan award ini kepada anda: MAYA

3.Setiap blogger hendaklah menyatakan 10 fakta/hobi diri sendiri sebelum memilih pemenang seterusnya...
dah lama tak main tag tag ni. ermm actually dah lama tak kena TAG. aduhh buat masa sekejap me perasan (ermm ni BLOG yg cuter ke BLOGGERnye yg cute) muahahaha
my profession sebenar adalah PEROMPAK BANK. yerr yer BANK je me rompak. hasil ROMPAKAN minggu ni me dermakan 100% ke ....... mana boleh cakap. hahahahhahahahaaahaha
im a drug addict........ what what what.

ahh percaya la tu. no im not a PEROMPAK NOR a DRUG addict. coke light addict je. kalau gitu better we buat fakta hobi je la. Ulang semula....
mula blogging tahun 2004. ni la blognye tak ubah ubah.
tau menjahit/smocking/stumpwork/bullion/bla bla bla banyak tapi ....
adehh baru 2. what else ya... ermmmmm me takut dijarum tapi banyak kumpul jarum craft.hehehehhe. masa me bersalin. tak de satu bius pun. kejam..... but i enjoy the experience (ENJOY... nah i think i need to use other word.... not enjoy but ermmmm....)

me nak semua lengkap baru SENANG nak buat kerja. meaning kalau nak smocking, nak ada pleater/mesin jahit/serger/. semua mesti ada, tak nak gi sana sini untuk minta pleat ke, jahit tepi ke.
first craft rasanye mestila cross stitch. rasa buat masa primary school. then long stitch and yg craft yg macam lap lap kaki tu
my mom pun tahu la bercraft. she very very good dalam crochet. how come they can crochet sambil tengok tv ya. NVM
i dont meant to jual my baju smocking. tak terfikir pun nak mengambil upah. hehehehehe.

ok ok 2 more to go. opss 3 . I GARANG, GILA, and DRIVE VERY VERY SLOW. sah faridah tak suka kalau me memandu. hahahaha
me tak berapa minat dengar lagu2. yes most of my school fren macam MAYA juga. suka tulis lirik lagu kat dalam book. me suka menguap and tidur. buat peta. hahahahahaha

opss nilast fakta diri. bebe d lahir awal and 2 kg je. me lahir ermm (awal ke lambat tak ingat) tapi 2 kg lebih gak.

10 orang yg me nak tag. what SEPULUH. hahahahahah bestkan kalau main tag pass $$$$ . gila duit nih. hehehhee. fakta diri tu. ok la 5 org seterusnye.
ibu ( i know dia sakit/busy ngan RE/tatting/DD ngan DH but me TAG je )
sis ain ( ni pun busy membeading ngan new office tapi tag juga le)
Musliha ( ermm busy dengan preparation kawen)
Aleesa ( tau tau ko busy siapkan 10 pattern beading...)
fuzzy (hahahah yg ni im sure boleh jawab.. sebab dia kesunyian...hahahha)
sudah laaaaaaaaaa
ok if visitor pegi link 5 ppl ni. if u saw their blog kinda of messy (meaning not cute) but they all (in person taw) very very da cute. ikut hati habis semua nak tag. but bagi peluang la kat org lain nak tag.